Where to stay on a city break is always a conundrum. Every city has so many hotels, apartments, guest houses and now Air B&B that I have to confess I can find it difficult to make a choice. Sometimes you hit the jackpot and that's how we felt on our Easter trip to the Flores Village Hotel and Spa in Porto. Here are 7 reasons this hotel was a great choice for our family.
LOCATION
Flores Village Hotel is right in the heart of the action on the Rua das Flores, one of Porto's most central streets and one of its most historic. Rua das Flores translates as 'Street of Flowers' – in former times fine palatial homes dominated and smart shops purveyed their wares. Right in the middle of the historic city, it was easy walking to all the sights. There were plenty of restaurants and bars nearby and many of the buildings were decorated in a picturesque style – check out this shop with its beautiful floral exterior, perfect for Rua das Flores.
As you wander down Rua das Flores you'll see traditional sardine stores and the famous Porto tiles .
ROOFTOP GARDEN
There aren't too many hotels in the centre of historic Porto with gardens or outdoor spaces. The Flores Village appealed because it has a roof top garden, from where you can admire splendid views of the city, particularly the famous Se Cathedral. With sun loungers and outdoor sofas we enjoyed a little downtime here most days, particularly on our last day when we made the most of the sunshine with some relaxation outside. The open rooftop was a perfect tonic to the sightseeing, hustle and bustle of the narrow streets below.
ROOM
We usually share a room with our children on holiday, they're pretty good travellers and don't need to go to bed early. But the Flores Village Hotel & Spa has family rooms and we took advantage of the opportunity to try one out. We entered the room through a living area with a kitchen, dining table and chairs and a sofa that turned into a bed for the children. Further on from this room was the main bedroom and en suite. Being an old building, the room was a quirky shape.
Although we didn't cook in the kitchen as we ate out, it was handy having a fridge for all our drinks and if you did want to whip up a snack or a meal, the kitchen was plenty big enough to do so.
The decor was stylish and contemporary and a great place to lay your head after a day's sightseeing.
SWIMMING POOL AND SPA
In the basement of the hotel and lit by purple lighting was the small but refreshing hotel swimming pool, popular with my children for a quick splash at the end of the day. A sauna, steam room and gym complete the fitness and leisure facilities.
BREAKFAST
Breakfast was served in the beautiful dining room, which really gives a sense of the palatial buildings on the Rua das Flores and the style of times gone by. The ornately decorated ceiling with its intricate painting isn't one you see at every hotel breakfast!
Breakfast was served buffet style with Portuguese specialities such as pastel de nata as well as traditional breakfasts, fruit and pancakes.
FRIENDLY WELCOME
The Reception staff here were very friendly and helpful. We hadn't booked any restaurants before we arrived and we were glad we hadn't as they had so many great suggestions – we dined like royalty through the holiday. The Reception team checked availability at the restaurants we wanted, proposed alternatives as not everywere was open throughout Easter, suggested their favourites and booked them for us.
Some of their recommendations that we particularly enjoyed:
Ze Bota -Traditional Portuguese Restaurant, the walls are lined with wine and port boxes. About 15 mins walk from the hotel.
Tapabento – Fantastic food, we loved this place, a small restaurant tucked away next to Sao Bento Train Station and only a couple of minutes from the hotel.
Just some of the delicious food we enjoyed in Porto:
On Easter Sunday we came back to the room to find an Easter treat trail had been laid for the children with a suprise at the end. What a lovely touch!
FACILITIES
The hotel had a lounge area leading onto the garden where you could help yourself to refreshments or watch tv and also a restaurant, open to non-residents, on the Rua das Flores and attached to the hotel. I love the bronze topped table and chairs (the chairs were soft – you don't sit on bronze!).
We had a wonderful Easter in Porto and staying at the Flores Village Hotel & Spa really added to that. We particularly appreciated its great central location and its lovely rooftop garden with city views.
PIN FOR LATER
WHERE JO GOES -PORTO
Porto – City Highlights/Porto – Jardins do Palacio de Cristal/Porto- Food Tour
WHERE JO GOES -CITY BREAKS WITH KIDS
New York/Oxford UK/London – Greenwich/HMS Belfast/British Library/ Royal Albert Hall/World's Biggest Lego Store/Ham House (National Trust)/Shakespeare's Globe Theatre/Bar Baloud at the Mandarin Oriental Hotel/O2
Linking up with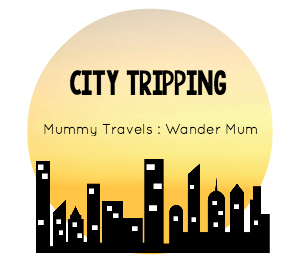 This post is in no way endorsed or sponsored by any of the organisations mentioned. All views are the authors.