If you want to bring some culture into your family's lives and are looking for a literary based trip with the children, where could be better than The Treasures of the British Library? The British library is the second largest in the world and holds 150 million items. It's a serious research library rather than a place to find a kids' corner with a range of picture books and you have to be a member to access reading materials. You won't be taking books home with you unless you visit the excellent bookshop on site.
This huge collection has some interesting highlights for families. I confess we popped in on a whim, as we were staying in a hotel next door, rather than because we were planning an educational literary journey. What we found was far more than we were expecting. I won't be showing you a lot of photos on this post because photography isn't allowed in the collections. You need to go and see them with your own eyes! There is no cost and it's well worth a visit if you are in London.
TREASURES OF THE BRITISH LIBRARY
The Sir John Ritblat Treasures of the British Library Gallery is an astonishing collection of key pieces of interest. There is literally something for everyone in this fascinating collection. An original Magna Carta, the Lindisfarne Gospels, Beowolf, Handel's Messiah written by Handel himself, writings of Charles Dickens and Jane Austen and let's not forget Leonardo da Vinci's notebook.
All of these treasures are originals, stored carefully (in some cases for hundreds of years) and available to everyone to see for free, in a darkened room in the middle of London.
If that all sounds highbrow, the collection includes the Beatles' original lyrics for various songs, some written quite literally on the backs of envelopes and cards. Original drafts of Ian Fleming's James Bond sit alongside 600 year old bibles.
Some exhibits particularly appealed to my 9 year olds. A letter from Florence Nightingale reporting on the conduct and ability of her nurses was one and correspondence between Anne Boleyn and Henry VIII another. Each case reveals another story, another piece of history. A letter from Churchill, writing by Darwin, the fascinating stories told by the writers of these documents forming part of British and international history for centuries. Items come and go from the collection here.
As you walk around the darkened room you hear people exclaiming and calling to each other quietly as they discover something else. I hadn't been expecting that Sunday morning to see documents relating to the beginnings of the British constitution, the founding of the Christian monasteries or even discovering quite how short some of the Beatles songs really are. The gallery is a treasure trove of literary achievement in all its forms.
If you want to enlighten and inspire your family, the place to go for a trip through Britain's literary legacy is undoubtedly the British Library.
PIN FOR LATER
WHERE JO GOES -CITY BREAKS WITH KIDS
Porto – Jardins do Palacio de Cristal/Porto- Food Tour/Porto City Highlights/New York/Oxford UK/London – Greenwich/HMS Belfast/British Library/O2 Arena/Royal Albert Hall/World's Biggest Lego Store/Ham House /Shakespeare's Globe Theatre/
Linking up with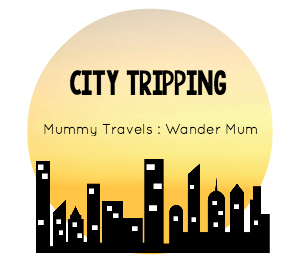 This post is in no way endorsed or sponsored by any of the organisations mentioned. All views and book browsing recommendations are the opinion of the author.